The New York mobile betting industry keeps on doing great. Last week, New York's six online sportsbooks generated almost $450 million in handle, which resulted in a $21.6 million profit for the operators.
The state also profited from all this. In less than a month since mobile betting went live in New York, the state generated almost $60 million in taxes. That accounts for almost 5% of all the money collected through betting taxes in all US States since May 22018 when the Supreme Court lifted the ban on sports wagering.
PointsBet Starts its NY Journey in Top Gear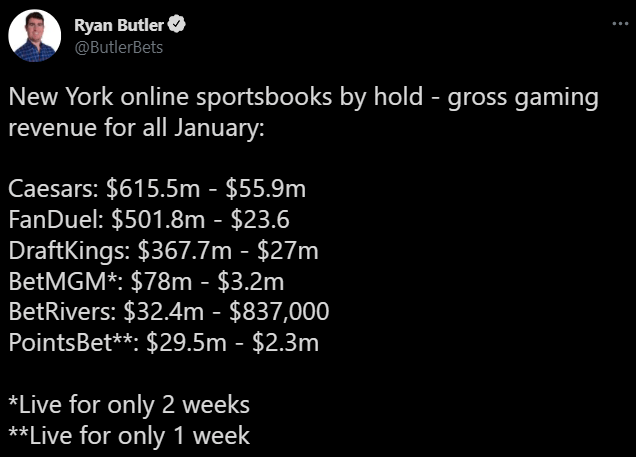 PointsBet was the last online/mobile sportsbook to get on the bandwagon of New York sports betting. However, in its first week, the sportsbook generated a gross gaming revenue (GGR) of $2.3 million. That's more than what BetRivers earned in almost a month of doing business in New York State.
Still, the biggest winner of the NY betting legalization is Caesars Sportsbook. Since its NY platform went live in early January, the operator has generated a GGR of $55.9 million.
The best thing is that this is just the beginning. More money is expected to head to the six NY sportsbooks operators this weekend when the most popular sports event in America takes place – the Super Bowl.
Record Handle Expected for Super Bowl Weekend
According to the American Gaming Association (AGA), Americans are expected to wager more money than ever before on the Super Bowl LVI. The AGA estimates that more than 9 million American bettors will put their money on the NFL Championship game between the Cincinnati Bengals and Los Angeles Rams.
The association expects US bettors to wager a total of $7.61 billion on the game. If their estimates turn outright, it will mean a 78% increase in Super Bowl betting volume compared to the 2021 game.
The explanation behind this is that as of February 2022, two-thirds of American states are betting friendly. Most of those states are situated in the northwestern part of the country, which is home to nearly 60 million people.
One of the states that belong to this category is New York, where over 13.5 million people are of legal gambling age.