Online sports betting has come to New York! The Empire State's gambling officials have given the green light to nine operators to launch their online/mobile betting platforms. As of March 2022, five of them are officially open for business, while the other four are expected to launch within the next couple of months.

The Best Betting Sites in New York

In November 2021, the New York State Gaming Commission announced that nine sportsbooks will be given the green light to launch in the state. The fact that the state has given them the license tells a lot about how good all those sportsbooks are.
They all excel in terms of betting odds, bonuses, security, and all the other things that make sportsbooks good. That said, all those nine NY sportsbooks have our recommendation.
Still, there are some that we believe stand out from the crowd. Those sportsbooks are the following:
How to Choose the Best Bookmaker?
When it comes to choosing the online bookmaker, the most important factor is the license. Being licensed means that the sportsbook needs to obey the rules and regulations set by the state's gaming authority, in this case, the New York State Gaming Commission.
So, if you're betting at a licensed betting site, you have nothing to worry about getting scammed – your state has your back.
In addition to having a legit license, the sportsbook also needs to fulfill a set of requirements in order to be considered the best.
What to Look Out For in a Sports Betting Site
Top-notch software – Whether you're using the web-based sportsbook platform or a betting app, you want to have a smooth experience, free of any bugs and lags.
User-friendly interface – Most New Yorkers haven't had the opportunity to bet online before, meaning that they have zero experience with sportsbooks sites and apps. For that reason, the best bookmakers need to have an easy-to-use interface that won't confuse the newbies.
Attractive odds – The whole point of betting is to have fun, but you can't have fun if you're hemorrhaging money all the time. That's exactly what will happen if you bet at a sportsbook that has unfavorable betting odds. By betting at a bookmaker with a high payout rate, you will singlehandedly improve your chance of making a profit.
Variety of banking options – You want to make deposits/withdrawals using your favorite method. As different users have different favorites, sportsbooks need to support a variety of payment methods. Apart from having a large selection of banking options, the sportsbook also needs to be able to carry out money transactions quickly. No one wants to wait days or weeks to get their money…
Customer support – If something goes wrong during your sports betting adventure, you want the problem gone ASAP. Well, that's only possible if there's a customer support team at your disposal. The good news is that the best online sportsbooks in New York will have their teams working 24/7, every day of the year.
On top of everything, the best New York betting sites also need to have plenty of gifts for the players in the form of sportsbook bonuses.
Welcome Bonuses at New York Bookmakers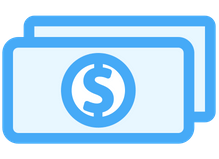 New York is a huge market with circa 15 million adults, all of whom are potential customers for the online sportsbooks licensed by the NY Gambling Commission. Each sportsbook will want to attract as many users as possible, which is why they're going to use all sorts of incentives. One of those will certainly involve giving away amazing welcome bonuses.
Most sportsbooks will probably offer match-deposit bonuses. How these deals work is that the user needs to deposit some funds to their account, which will then be matched in the form of a bonus.
It's also very likely that some sportsbooks will give away risk-free bets as welcome presents for their new customers. To get this deal, you are required not just to make a deposit, but also to place a bet. If the bet loses, you will receive a bonus in the same amount.
Some of the best deals you can get at NY betting sites in 2022 include the following:
Caesars – $1,500 Welcome Package
FanDuel – $1000 Free Bet
DraftKings – $50 Free Bet & 20% Deposit Match up to $1,000
BetRivers – $250 Welcome Bonus
BetMGM – Risk-Free $1,000 First Bet
In addition to welcome bonuses for new players, these sportsbooks also have plenty of other perks for existing customers – reload bonus, refer-a-friend bonus, and so on.
Deposit and Withdrawal Methods
New York online sportsbooks want to ensure their users can make deposits/withdrawals using their favorite banking options. New Yorkers, same as bettors from other parts of the United States, seem to prefer using the following methods:
Bank cards (Visa, Mastercard, American Express, etc.)
E-wallets (PayPal)
Online banking
Bank wire transfer
Many other methods are supported as well, which are equally fast and secure as the ones above. In most cases, deposits are processed instantly, regardless of which method is used. Payout, on the other hand, may take a bit longer to process.
How to Place Your First Bet?
The first step is to decide which online sportsbook you're going to put your trust in. This shouldn't be a tough choice – just pick one from our list near the top of the page.
The next step is to sign up for that sportsbook. To do that, just click/tap the button saying sign-up and follow the on-screen instructions. You will be asked to enter your personal details, such as your name, address, and so on.
When done, it's time to confirm your account before being able to make a deposit. To fund your account, just head to the cashier section of the sportsbook where you'll be able to choose from all the supported deposit options.
After funding your account (and grabbing the welcome bonus), it's time to make your first bet. To do that, you need to find the event you're planning to bet on, decide which betting options you're going to back, and finally place your wager.
Tips From Professional Bettors
When it comes to winning money on sports betting, the most important factor is the betting odds. If they're not good enough, you're not going to win a lot of money in the long run. However, if the odds are good – especially on the favorites – your chance of winning is pretty good.
Another way to increase your chances of winning money is to take advantage of all the bonuses available to you. Even though they usually come with at least some sorts of requirements, the fact is that they are free. This way, you get to bet more without paying more. In turn, your chances of winning big money are much better.
Luckily for you, all of the New York sportsbooks are guaranteed to give some awesome bonuses to their new players. Make sure to grab them!
Popular Types of Bets on Betting Sites NY

Spread, Moneyline, and points total – these are the three most popular types of bets at NY sportsbooks. You can be sure that all of the betting sites that are active in New York state have these betting markets on offer.
Of course, there are plenty of other betting types to choose from. New York sportsbooks also let you bet on player performances, half-time stats, and so on. Apart from making bets pre-game, it's also possible to bet during the game in the live betting section of the sportsbook.
All the bets can be placed individually as singles, but also combined together with other wagers in a so-called parlay bet.
The Most Popular Sports in NY for Betting
The four major American sports – football (NFL), basketball (NBA), baseball (MLB), and hockey (NHL) – are loved in every state, New York included.
That said, it's no surprise that New Yorkers wagered millions of dollars on Super Bowl LVI, the first major sports event on the program since online betting went live in the state.
Apart from betting on sports Americans traditionally adore, New York bettors have also been putting their money on soccer, tennis, MMA, and many other sports.
New York Teams to Bet On

New York is one of the few states that have teams in each of the four major leagues. In the NFL, there are three NY-based franchises, namely, the New York Jets, New York Giants, and Buffalo Bills.
When it comes to the NBA, two NY teams are competing in the world's elite basketball championship – Brooklyn Nets and New York Knicks.
Over in the NHL, there are three teams from the Empire State – the Buffalo Bills, New York Rangers, and New York Islanders.
The New York Yankees and New York Mets are the two New York-based franchises competing in the MLB.
In addition to the teams from the four major US leagues, New York is also home to teams competing in many other sports including soccer (New York City FC, New York Red Bulls), rugby (New York Knights), and even esports (New York Excelsior).